Top 17 Destination Wedding Spots
From picturesque mountaintops and vineyards to white-sand beaches, check out our list of the hottest places in the world to get hitched.
US: The Big Island, Hawaii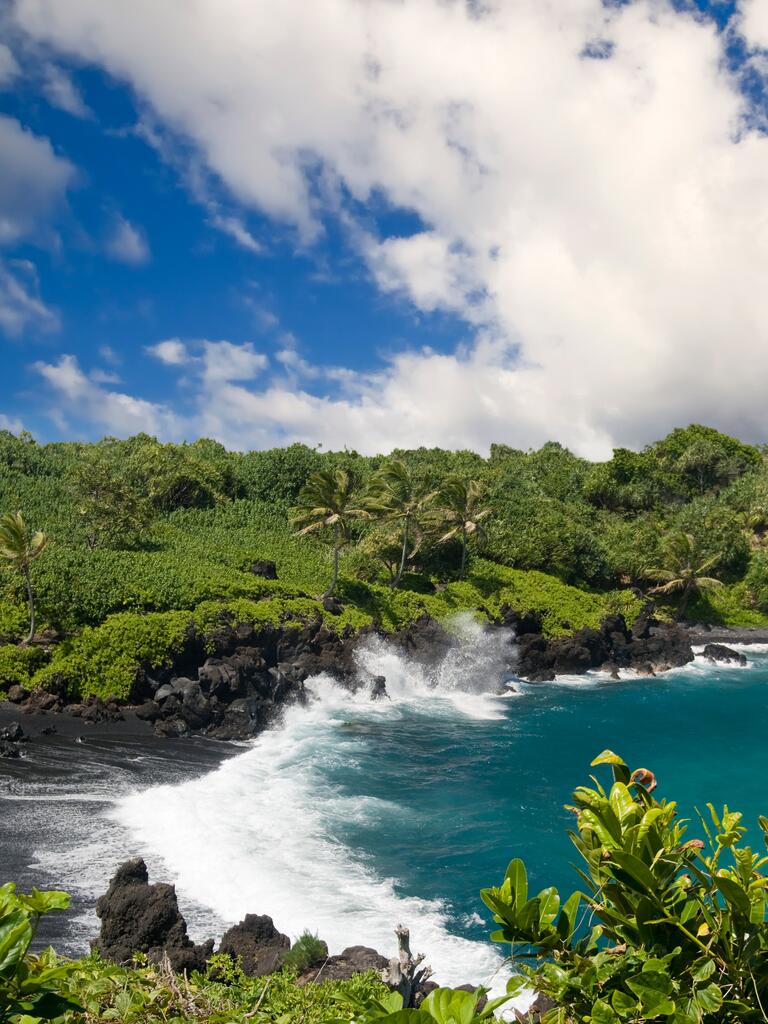 Why Get Hitched Here: The Big Island is (you may have guessed) the largest island in the chain and offers incredibly diverse topography. In fact, 11 of the world's 13 climatic zones can be found on the island (there's even snow on top of the highest mountains!). The landscape varies dramatically as you travel around the perimeter, so you'll have your choice of backdrops: The Kona coast to the west has a lunar-like landscape, while the north and east coasts are wet and super-lush. There's plenty for guests to do too, from exploring the rain forest region to going horseback riding, snorkeling or just lazing on the beach.

When to Wed: Anytime—year-round, temperatures are in the 70s and 80s during the day. Dry season runs May through October, but even in winter, rain showers are short and mild. If you're looking to save a little cash, avoid winter through early spring, when tourist season is in full swing.

US: Sea Island, Georgia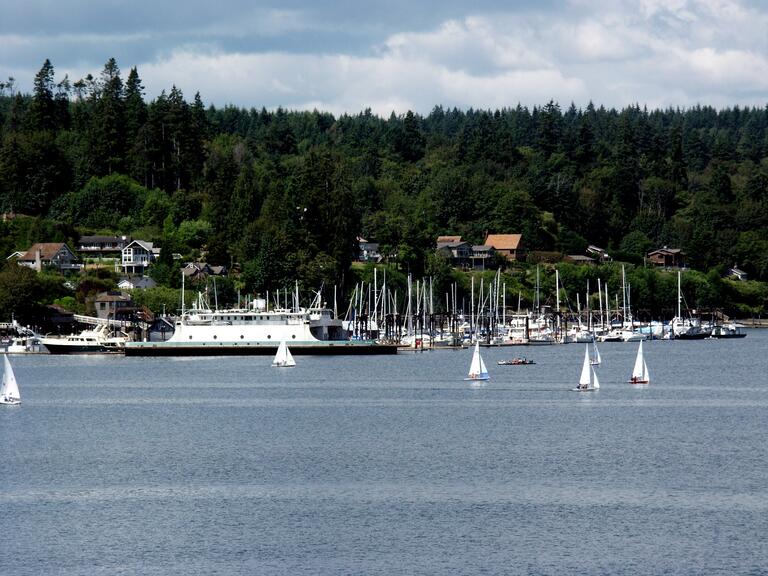 Why Get Hitched Here: With its turquoise waters and pristine beaches, Sea Island feels like the Caribbean, only without all the tourists cramping your wedding style—the island's only visitors are guests of its two resorts. And the oceanfront setting on five miles of private beach couldn't be a more beautiful spot to exchange vows. In addition to world-class fare and amenities, this tiny Georgian retreat has plenty of activities for your guests to enjoy, including golf, tennis, horseback riding, boating, fishing, spa-going and more.

When to Wed: The best times to go are in the late spring and summer, and in early fall. June, on the other hand, marks the start of the hurricane season.

US: Lake Placid, New York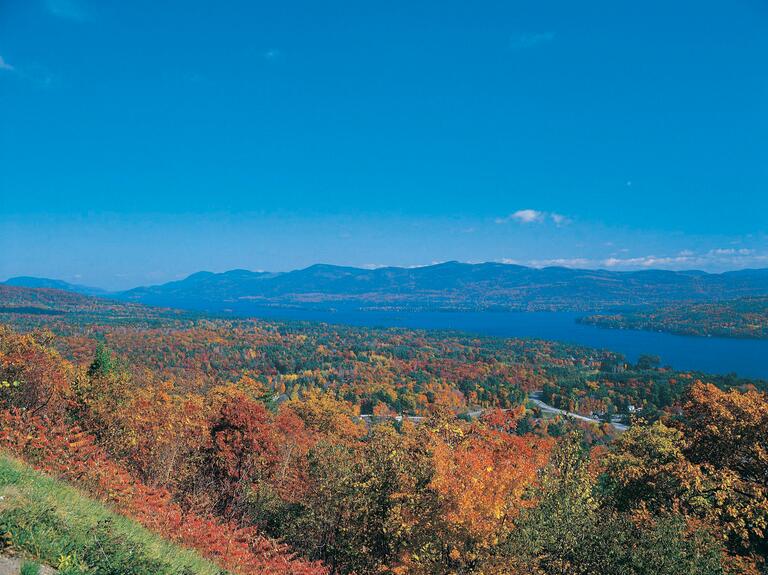 Why Get Hitched Here: Can you say "winter wedding"? Despite its location in the heart of the Adirondacks in upstate New York, this alpine village (and two-time Winter Olympics host) is anything but remote, with loads of activities and attractions—and snowcapped settings backed with mountain vistas. Leave the glitz at home and choose a venue from among the cozy rustic-chic resorts and luxe lakeside lodges. You can even incorporate a gondola ride up Whiteface Mountain into your wedding. And if you're not feeling a wintry occasion, go for an outdoor fall ceremony surrounded by some of the country's most stunning foliage—and get an even better view of the changing leaves by saying "I do" in a hot-air balloon! The region is dotted with 3,000 lakes (popular choices are Saranac Lake, Mirror Lake and, of course, Lake Placid), plus mountain streams and waterfalls that come to life in the spring, providing a picturesque background for April or May nuptials.

When to Wed: Naturally, a winter resort area will be busy and more expensive during the winter months, but if you want a "white" wedding, try April when it's less crowded but there's still lots of lingering snow. In fall, the changing foliage usually peaks in early October, so book your wedding date near then, and spring is beautiful, but have a backup plan for rain.

US: Jackson Hole, Wyoming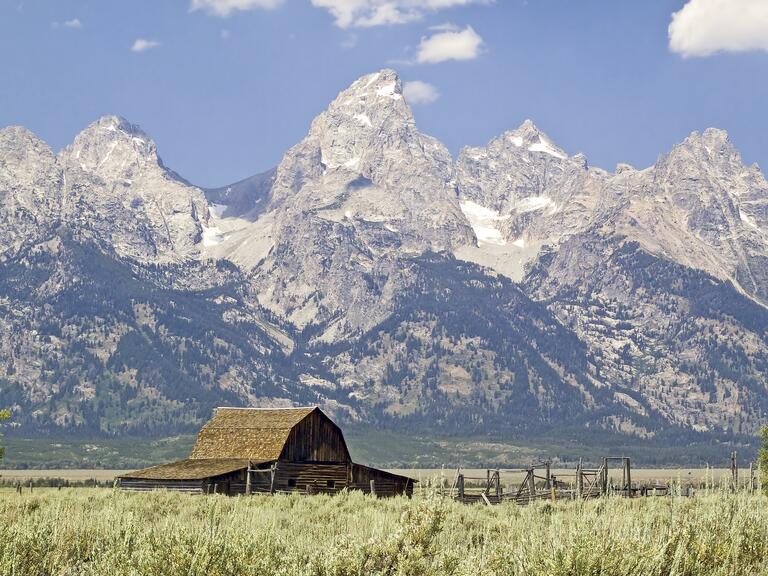 Why Get Hitched Here: The majestic Tetons offer a breathtaking background for your nuptials (and the sunsets here simply can't be beat for romantic wedding pics and ceremonies), but you'll also find rustic ranches and a Wild West vibe in Jackson Hole if a Western theme (think: cowboy boots and hay-bale benches) is more your style. Your guests can enjoy a range of outdoor activities, including skiing, hiking, fly-fishing and checking out the local shops, museums, bars and shootout (seriously!) in town.

When to Wed: The summer and early fall are beautiful in Jackson Hole, but late spring and fall can be unpredictable. Winter weddings are gorgeous here, but keep in mind: A big storm could make it difficult, or even impossible, for your guests to get there.

US: Aspen, Colorado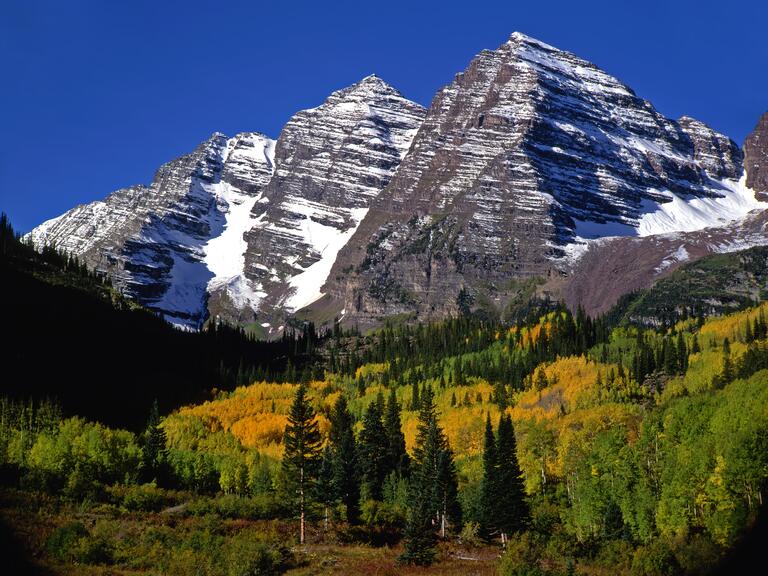 Why Get Hitched Here: This Rocky Mountain town possesses the perfect mix of natural beauty, rustic charm and posh amenities. In addition to luxe mountain lodges, you'll find elegant ballrooms and sleek restaurant spaces to host your wedding events. Aspen's gorgeous mountains and valleys will thrill any outdoors enthusiast, while its ample selection of high-end shops and swank restaurants can keep indoorsy types more than entertained.

When to Wed: While many couples choose to get married between late November and early March to create a winter-wonderland wedding, keep in mind that summer and fall are also gorgeous (and less crowded) times of year here.

US: Las Vegas, Nevada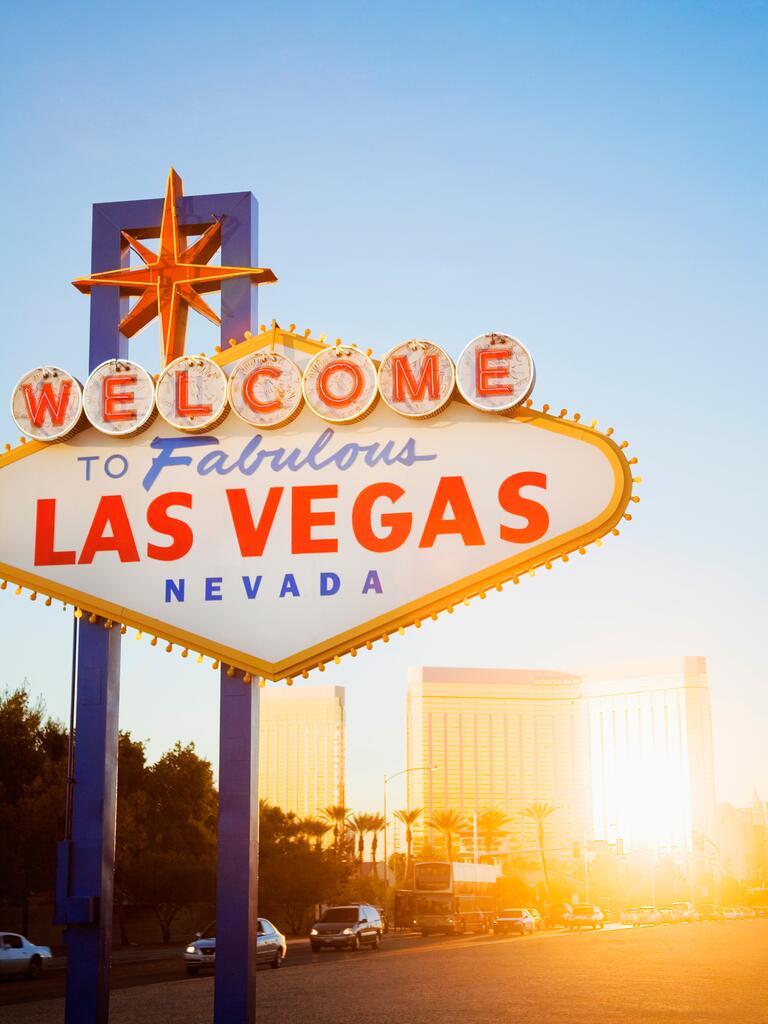 Why Get Hitched Here: While drive-through chapels, Elvis-impersonator officiants and celebrating your nuptials at a blackjack table are still a part of what Las Vegas offers, there's a whole other side to Sin City that's making it one of the hottest Stateside spots to tie the knot. We're talking bold ballrooms, cool restaurants and chic poolside settings, plus hundreds of resorts and hotels that offer wedding packages for every budget. And even nonbetting guests will have plenty to keep them entertained.

When to Wed: Avoid the summer heat—spring offers the most temperate climate, and the summer sizzle cools in September and October. You'll have the most luck with availability and good rates during the first three weeks in December, but prices spike and availability plummets between Christmas and New Year's and on holiday weekends (including Valentine's Day and Cinco de Mayo), as well as during big-deal sports weekends (like the Super Bowl and NCAA Final Four) and times when there are giant conventions or events scheduled.

US: New York City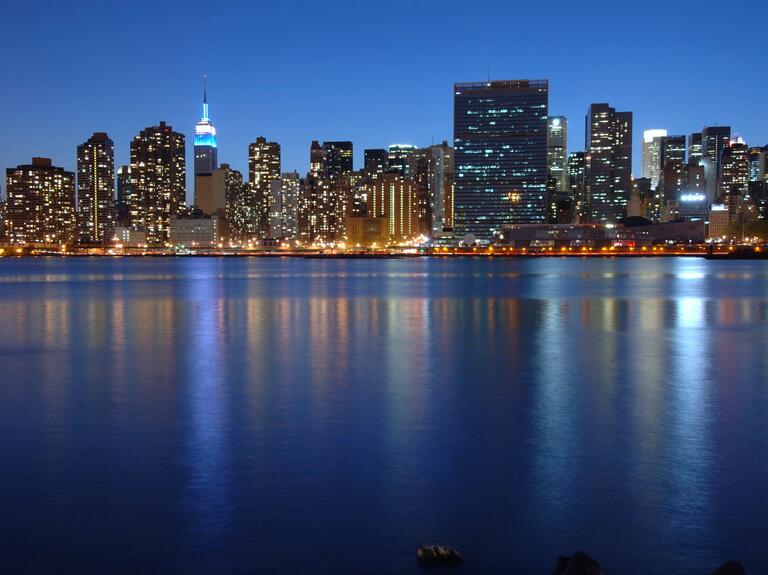 Why Get Hitched Here: The "city that never sleeps" offers plenty to get your guests excited to make the trip: Broadway shows, museums and galleries, four-star restaurants, crazy-fun nightlife, and block after block of shopping, as well as classic tourist attractions, like the Empire State Building, Statue of Liberty and Times Square. And when it comes to wedding planning resources, there's no shortage either; you'll have innumerable caterers, florists, photographers and bands to choose from. Another plus? With taxis on every block, it's super-easy for guests to get around.

When to Wed: Any month can be a good time for a New York wedding. Most of the city's main attractions are indoors, so it doesn't matter much what the weather is like. That said, summers here, especially during July and August, can be uncomfortably hot and humid. The city gets extremely crowded during the holiday season, but your guests may love the chance to catch the Radio City Music Hall Christmas show, ice skate in Central Park and browse the decked-out department stores.

US: Oahu, Hawaii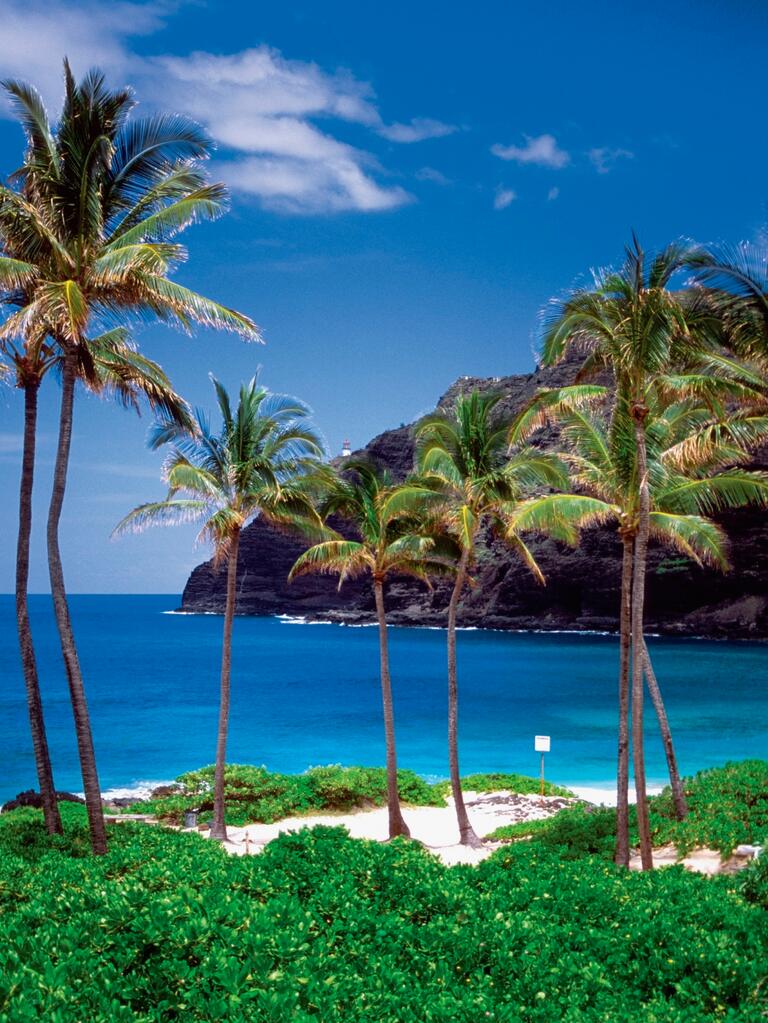 Why Get Hitched Here: The liveliest of the Hawaiian islands, Oahu is more densely populated than the others, and it's the one tourists often visit. Honolulu, the island's most famous city, is located here, as is Waikiki, home of the main entertainment district and a hopping nightlife scene. But Oahu is still packed with lots of natural beauty and native culture, and is the most convenient island for a destination wedding because it has the biggest airport and the most frequent direct flights from the mainland.

When to wed: Anytime—year-round, temperatures are in the 70s and 80s during the day. Dry season runs May through October, but even in winter, rain showers are short and mild. If you're looking to save a little cash, avoid winter and early spring, when tourist season is in full swing.

Caribbean: Antigua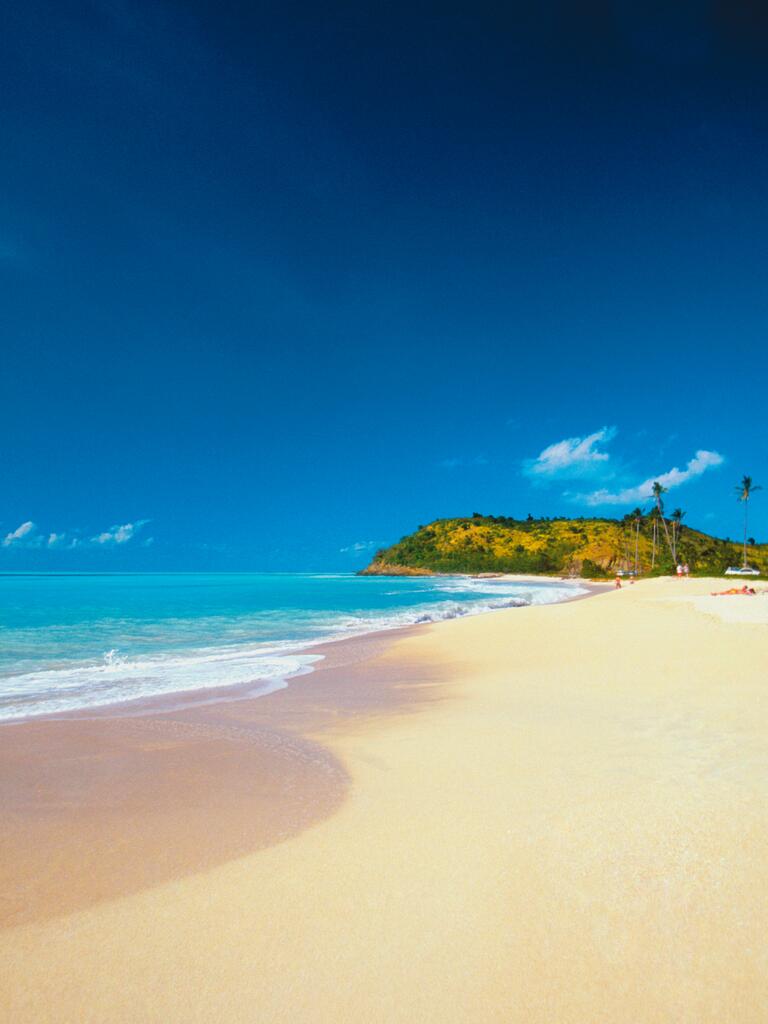 Why Get Hitched Here: This idyllic island not only has a whopping 365 beautiful beaches to get hitched on, but it's also steeped in nautical history. In the 18th and 19th centuries, Antigua was home to a huge British naval base, and its harbor is still a popular yachting destination for the international jet set. If you want to host your nuptials at a high-end all-inclusive resort, look no further—many of the world's swankiest are here.

When to Wed: The high season runs from mid-December through April. After April, rates go down as much as 40 percent, but some places do close between August and October. The humidity and rainfall are low year-round, but avoid hurricane season, which runs from June through November.

Europe: Amalfi Coast, Italy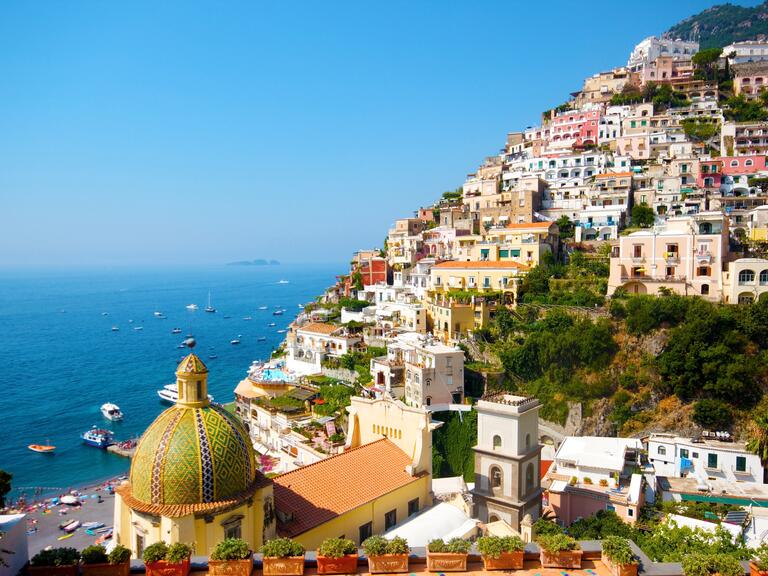 Why Get Hitched Here: When the backdrop for your wedding is a citrus grove that overlooks Italy's jaw-dropping Amalfi Coast, great wedding pictures take care of themselves. The Amalfi Drive is one of the most scenic stretches of Italian coastline, consisting of a winding cliff-top road offering dramatic views of the sea. Your guests will certainly enjoy the food and surroundings, so there's no need to stress over the menu or decor. And an itinerary filled with one-of-a-kind experiences, like a visit to the ruins of Pompeii, a boat trip through the Blue Grotto off Capri or a walk through the ancient, narrow streets of Naples's Old Spacca Quarter, will make for an unforgettable wedding weekend.

When to Wed: April through June, and September and October are the best times to explore Italy, with mild temperatures and smaller crowds. August can get hot, and it's the month when most Italians go on vacation, so many shops, hotels and restaurants may be closed. Winters stay on the warmer side, with temps averaging around 50 degrees.

Europe: Loire Valley, France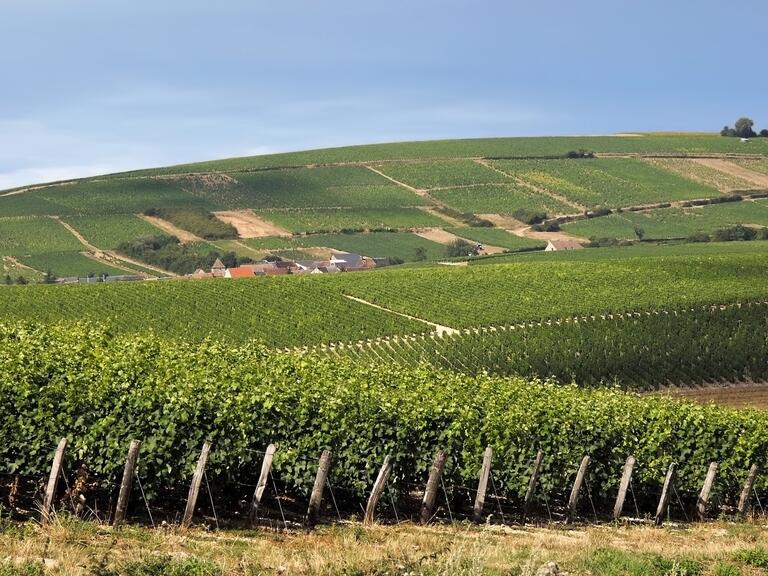 Why Get Hitched Here: Just two hours outside the world's most romantic city (yep, we're talking about Paris) and its international airport (that would be Charles de Gaulle) is the chateau-rich and rolling Loire Valley, cherished for its castles, historic villages, charming people, wines and food. So basically, you've got everything you need for a dream destination wedding. You and your guests can also enjoy the country life: Go for a wine-tasting tour, pay a visit to the Chateau d'Ussé,—said to be the setting of the French fairy tale "Sleeping Beauty" in the village of Rigny-Ussé—or take a taste (or two) of the beloved tarte tatin (upside-down apple tart), which also makes a great dessert alternative.

When to Wed: Your best bets are April through June, and September through early November. While the weather is mild year-round, the rainy season varies by region and runs from mid-November through February. Don't book your nuptials for July and August unless you want to deal with huge crowds.

Far-Flung: Costa Rica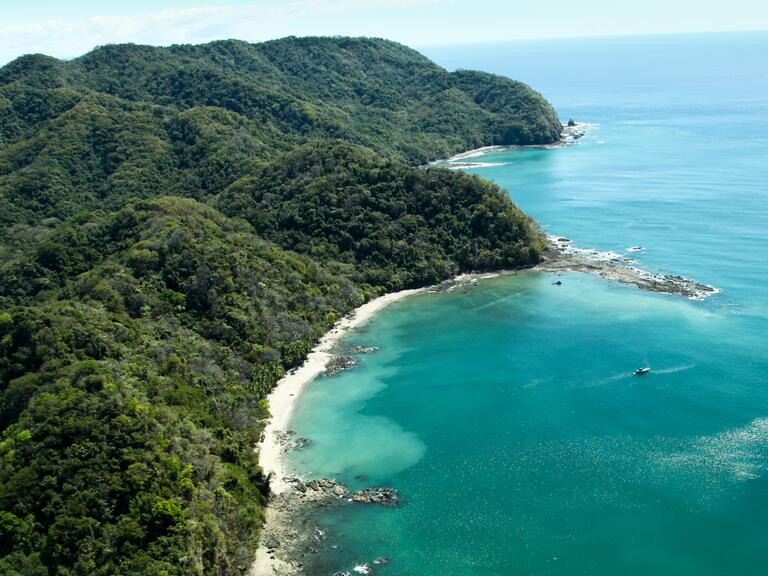 Why Get Hitched Here: With two breathtaking coasts only a short plane ride away from each other—one on the Pacific, the other on the Caribbean—Costa Rica is the perfect destination for couples who are looking for an unspoiled tropical background for their nuptials but don't want to sacrifice their modern urban tastes. In fact, this small country truly has something for every couple. Treat your guests to amazing mountaintop views during an outdoor ceremony or reception, or for a truly standout affair, you can even get married on the edge of a volcano! If you're dreaming of a beach bash, how do sun-baked stretches of white sand sound? Though deforestation once threatened the country's dense rain forests, several nature preserves, biological reserves and national parks have been established to protect the landscape, and they're now some of the most naturally stunning places to say "I do" (think: waterfall wedding). Ecotourism is very popular here, making less traditional but equally luxurious eco-lodges and rain forest bungalows another desirable (and romantic) option for couples who want to throw a green wedding.

When to Wed: You'll want to schedule your wedding during the dry season, from late December through April, except on the Caribbean coast, where it rains throughout the year (the Pacific coast is drier). The temperature and humidity vary with altitude but are much higher along the coasts.

Far-Flung: Fiji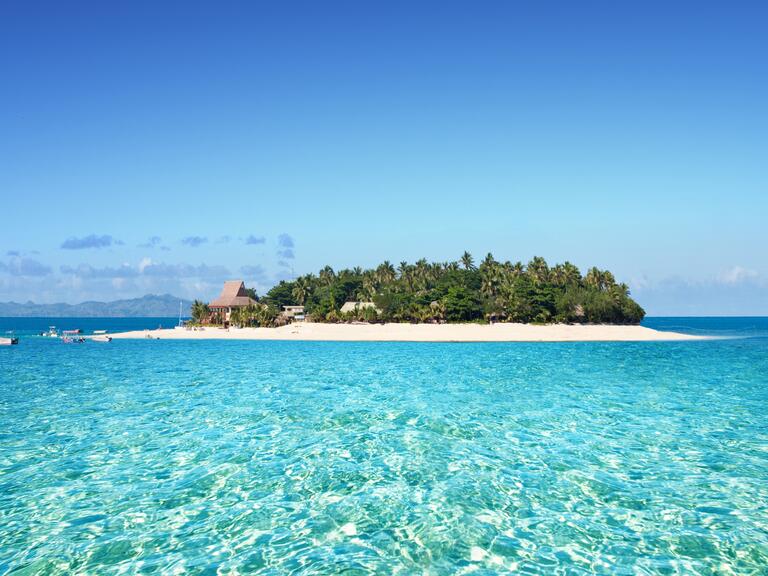 Why Get Hitched Here: About 300 islands in the South Pacific make up this alluring tropical paradise. Known for its friendly people, lush foliage and rich sea life, Fiji is the ideal destination for couples seeking castaway tranquility, exotic culture and unspoiled beaches for their nuptials. Called the "Soft Coral Capital of the World" by Jean-Michel Cousteau, Fiji is the perfect spot for your nature-loving guests, who can feed sharks and explore sunken ships and a World War II aircraft. But there's also terrain to suit every adventurer: Guests can trek the Sigatoka sand dunes, scale the vertical face of Joske's Thumb, hike the Mount Korobaba Range, tee off on palm-studded golf courses by the sea or go white-water rafting down the Wainikoroiluva River.

When to Wed: The best weather is during Fiji's dry season (called "Fiji Winter"), from May to October. Yearly festivals (including the Hindu Holi, or Festival of Colors, in February/March and Diwali, or the Festival of Lights, in October/November) could mean exciting celebrations for your guests to experience...but also crowds of tourists to compete with.

Far-Flung: New Zealand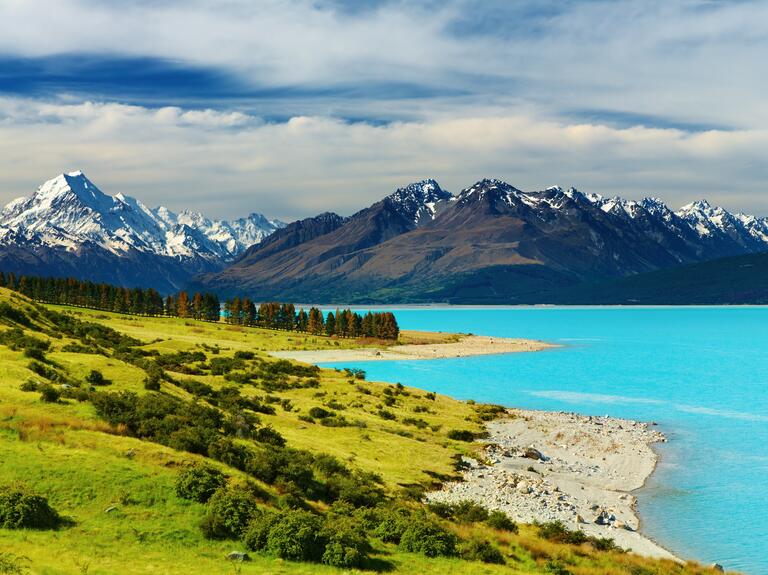 Why Get Hitched Here: Leave behind bustling crowds that flock to closer beach destinations for the more remote landscapes of New Zealand. Water lovers will appreciate the miles of golden beaches, while landlubbers can admire the country's pristine forests—and both make for a memorable backdrop for your wedding. Our pick for special spots to get hitched: Great Barrier Island, with its more rugged landscape, frequent wildlife sightings and secluded hot springs; the snowcapped Southern Alps for stunning views, including waterside canyons; and one of the many offshore islands, such as Waiheke Island, known for their vineyards and olive groves.

When to Wed: Most areas of the country have generally mild temperatures and many hours of sunshine, with daily average temps ranging from the low 50s to upper 60s. Like Australia, New Zealand's seasons are the opposite of those in the US, so the warmest months are December, January and February, and the coldest are June, July and August.

Far-Flung: Tahiti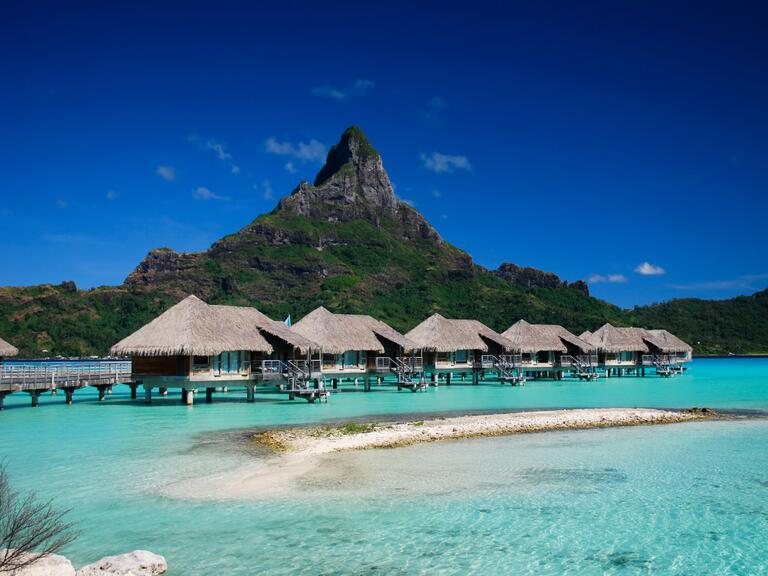 Why Get Hitched Here: There's a reason why French painter Paul Gauguin set his most famous works in Tahiti -- the island is known worldwide for its picturesque landscape packed with palms, fragrant vanilla farms, vivid blooms and postcard-worthy rain forests. And there's an even better reason why it makes the far-flung list: It gets relatively few tourists (more people visit Hawaii in 10 days than visit Tahiti in a year!). So you and your guests will enjoy great service and crowd-free beaches. Recommend that your guests tour the capital city of Papeete and hit the Marche du Papeete (central market) for black pearls, carvings, shells, vanilla, coffee and perfumes, or make their way to popular spots like Papenoo, Punaauia and Paea for surfing. And for a fun welcome activity, treat guests to a Polynesian show with traditional music and twirling flaming torches.

When to Wed: The dry season runs from May to October, but evenings can be cool, so remind your guests to pack wraps and sweaters for the evening.

Mexico: Riviera Maya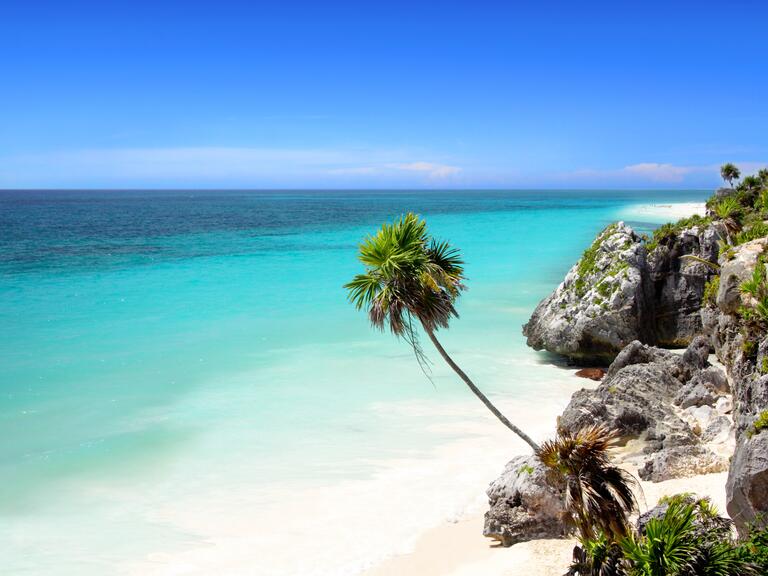 Why Get Hitched Here: This coastal stretch of the Yucatan Peninsula along the Mexican Caribbean mixes ancient Mayan ruins with palm-fringed beaches to give your wedding a real tropical feel. Farther north, seemingly carved out of the jungle, Cancun sits at the tip of the peninsula, twinkling with big resorts and a boisterous nightlife. Choose a property in Cancun's hopping Hotel Zone, book an entire boutique hotel or go for a hacienda-style wedding in a Mayan village near one of the ancient archaeological sites. The ruins of the ancient Mayan empire in seaside Tulum provide a stunning backdrop. For a slower-paced setting, try Playa del Carmen, which displays an authentic rustic charm and is home to some gorgeous beaches. And there's no shortage of natural settings here, either: Say "I do" in a lush, tropical garden, in a beautiful eco-park or among the cenotes, or freshwater pools, the Riviera Maya is famous for.

When to Wed: Winter months offer the best weather but are crowded, with sunny, 80-degree days from mid-December through Easter. Avoid spring-break season, late February through March. April and May are traditionally slower months, and the weather's still good. Rain is heaviest in June and October, with hurricanes possible through November. Humidity is uncomfortably high in the summer.

Far-Flung: Thailand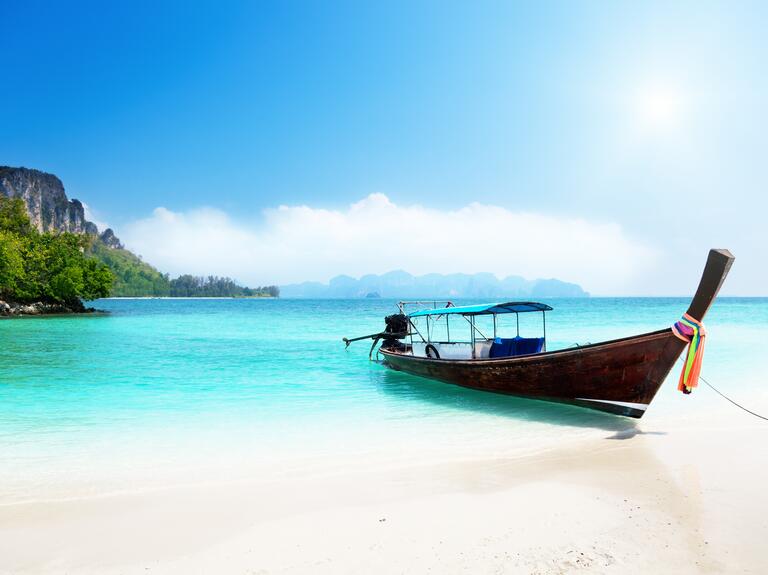 Why Get Hitched Here: There's a reason why locals commonly describe this Southeast Asian kingdom as sanuk, or "fun." From the ornate palaces to the rich coral reefs and other wildlife—not to mention the tasty cuisine—guests will be thrilled to have an excuse to visit this exotic gem. For an exciting urban experience rivaling the pace of New York City, suggest that guests stop in Bangkok en route to your chosen wedding locale. The huge metropolis consists of kitschy souvenir shops, dance clubs, the must-see Grand Palace and the notorious red-light district. For nature lovers, northwestern Thailand is where it's at, but the beautiful beaches, crystal-clear waters and luxe resorts of destinations like Phuket (the largest and poshest island) and Koh Samui are why couples make the long trek to Thailand to get hitched.

When to Wed: November to January is the official "dry and cool" season, but heat and humidity are always present. Summer (from February to May) is the warmest, while the rainy season lasts from June to September, and you'll get cooler temps from November to February.
 
24.03.2017
Source:
https://www.theknot.com/content/best-destination-wedding-locations
Comments
Write a comment